A Farewell Letter to your boss on the last day of work is a formal document that serves as a reminder of your last day. The letter is also used to express your appreciation for any help that your boss has given you, and to say thank you. The letter is a way to offer continued contact with your boss after you leave the company.
The farewell letter is your last chance to make a good impression on your boss before you leave. This versatile letter is good for employees leaving their posts to move to another company, for retirement, or for those who are advancing to a new position in the same company, under a new boss. It can help you to leave on a positive note and preserve a good professional relationship for future contact.
Be sincere. The letter should only express thanks for things your boss has actually done for you to help you grow professionally. The sentiments should come from the heart and be sincere
Maintain a professional and positive tone. The tone of the letter should be positive. There is no need to become overly emotional or point out past problems. Keep the tone positive and written in professional wording.
Keep the content concise. Use words that get your point across succinctly and avoid the use of fillers or fluff. Get right to the point without superfluous statements.
How to Write a Farewell Letter on Last Day of Work
Here are the seven very basic steps involved in writing a farewell letter to your boss to help you get started.
Write your name and contact information at the top of the page.
Start with a salutation. The salutation can be less formal if you have a good relationship with your boss, such as Hello Andrew. If it's more socially appropriate, begin with a traditional professional salutation such as Dear Mr./Mrs./Ms. and the name of your boss.
Remind your boss of your last day on the job. You can write this letter before your last day and send it a few days beforehand.
Express your thanks and appreciation. Point out the ways that your boss has helped you to grow and develop professionally. You can point out one specific example if appropriate.
Include your best wishes. It's appropriate to wish your boss and the team that you're leaving success in their future endeavors.
Offer your contact information. It's wise to let your boss know that you'd like to stay in contact and provide your information.
End with a professional closing (Full Name, Signature, Contact Info)
Sample Farewell Letter to Your Boss
Jackson Hanson
498 Centennial Way, Union Gap, WA -509-398-0000 -jhanson@gmail.com
Dear Mr. James
As we've discussed, tomorrow is my last day at work for Ingersoll-Rand. With sadness, I leave the supportive environment of our team, but I look forward to my new assignment at The Johnson Group.
I want to express my sincere thanks and appreciation for the time you spent teaching me how to work with our mutual clients effectively. You taught me how to put them at ease and gain rapport. This is a skill I will carry with me for the rest of my professional career. Thank you for all that you have done to encourage and support me during my time here.
I wish the best of success and prosperity to you and the team in your endeavors at Ingersoll-Rand. It would mean a great deal to stay in contact after I depart. You can call me on my personal cell phone at 509-398-0000, or feel free to email me at jhanson@gmail.com. Thanks again for everything.
Best wishes
Jackson Hanson
Farewell Letter to Boss on Last Day of Work (Word Template)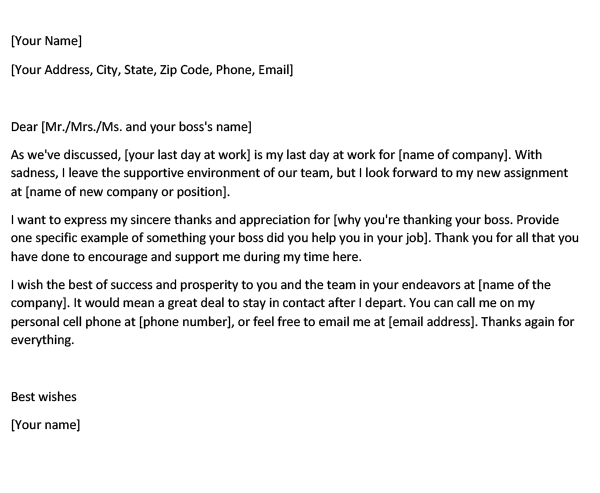 The hardest part of writing a farewell letter to your boss is getting started. Our tips help you know the right tone and how to approach the letter. Maintaining a positive and professional tone and keeping the letter direct and the point will give you the best results. The fillable template gives you a convenient way to substitute your own words in the brackets to customize the basic letter into a more personalized version that can be used for various formal letters you may need to write.