Parting ways has never been easy, especially if the parties involved have developed a close relationship over the years. An excellent example of this relationship is that one which forms between parents and teachers. If you're a teacher, there might come a time when you need to bid the parents goodbye after the students have completed their studies. However, this is easier said than done, and things can get so emotional. Therefore, the best thing to do would be to write a farewell letter to the parents.
By writing the farewell letter, you'll be able to organize your thoughts properly. You wouldn't have achieved this one thing due to a lack of time conversing with the parents. If your emotions have overwhelmed you and you don't know how to say goodbye to the parents, worry not. Here's an overview of the steps to follow when writing a farewell letter to the parents.
How To Write A Farewell Letter To Parents From Teacher
When writing this letter, there are several steps you should follow to make sure this letter comes out precisely as you want. Here's a guide highlighting in detail the steps to follow.
Make A Draft
While you might feel this is giving yourself more work, it helps you sift through your feelings, organize your thoughts, and know how to best share them appropriately. It's best to do this since the recipient will most likely remember every detail in this letter. Therefore, you need to put in all the appropriate content and emotion while writing this letter.
Writing the drafts allows you to achieve precisely this as you get to bring out all your thoughts and emotions without holding back.
Write An Expressive Letter
Once you know the emotions to include in the letter, go ahead and write a meaningful letter. You should always do this on time, and you shouldn't overthink it as it doesn't need to be complicated. And as you do this, make sure not to rush over the details because this will not bring out the feelings you want to give the recipient.

Express Your Gratitude
You should show the parents your gratitude for them for working in close association with you. As you do this, also thank the parents for their friendship, love, kindness, and support they've offered you over the years. Go ahead and explain that it's because of all this that you've been able to perform your role as a teacher better.
Be Clear And Concise
When writing this farewell letter, you need to use language that is clear and concise. And while you do this, make sure to maintain an approachable and friendly tone. By avoiding long explanations, you save yourself from saying anything inappropriate or getting misconstrued.
End By Saying Goodbye
You should end the farewell letter by saying goodbye to the parents. It would be best if you did this subtly and passionately, thanking them for everything.
Sample Farewell Letter To Parents From Teacher
Sara Williams
Class Teacher
6th Class: Div. A
Date: 02/17/2021
Dear Parents/ Guardians,
At this point, my mind is full of ambivalent emotions. This is because I am crushed and sad to see off all of you whereas at the same time happy due to the great success of my class. This year has no doubt has been a successful year as a teacher. Maintain the rapport throughout this year proved to be an excellent deal with my students always delivering excellent grades in their exams. I thank each of you for implementing my guidelines, which has made it easier for me as a teacher.
I thank everyone here for following every piece of advice given by the principal and teachers. This is what has helped the school be one of the best performers in all exams this year. Likewise, I thank you for being responsible parents, and this has helped us teachers in a significant way. I am confident that every student sees this year to be among their most productive years yet in their life. I thank each of you parents for your supper and kindness. I hope you will give your kids this same cooperation and affection as they continue their educational journey.
Wishing each one of your great luck in your future endeavors as parents,
Sincerely yours,
John Richards
Farewell Letter To Parents From Teacher (MS Word)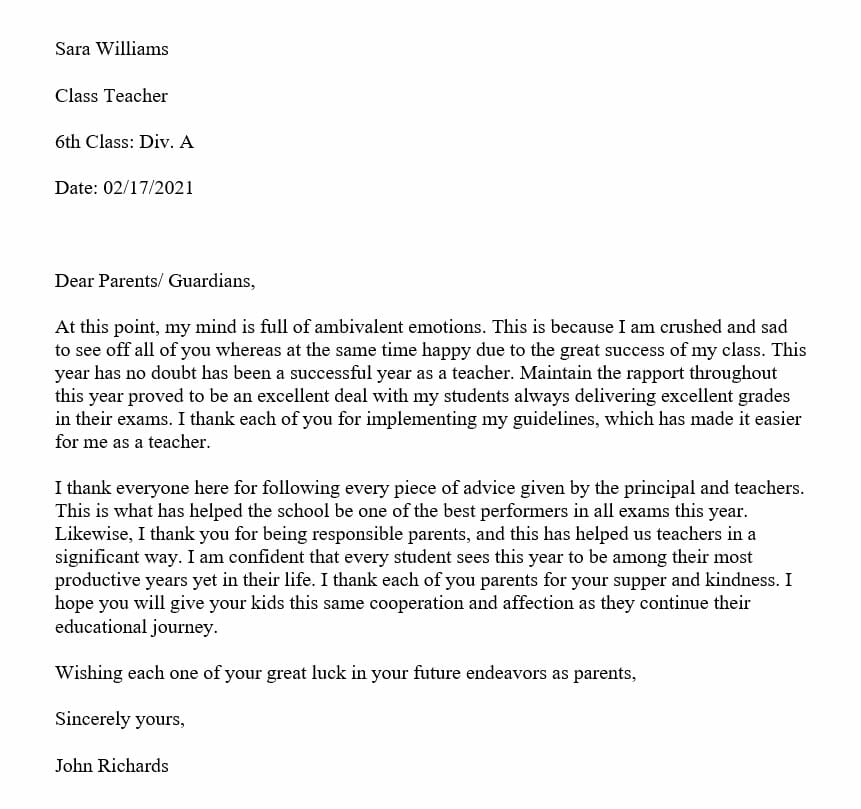 The farewell letter to parents is an excellent way to wish parents goodbye for the support and kindness they've shown you over the years. If you were having a hard time writing one, this in-depth post has highlighted the useful tips to follow when writing one. The sample letter has also offered you insights into expressing your feelings and emotions when clearly writing this letter. Knowing this, you're now in a better position to write a remarkable farewell letter to the parents.