Leaving a job is always frightening, and another challenging thing you've got to do informing your colleagues about your departure. And should you find yourself in such a position, writing a resignation announcement letter to your colleagues is crucial. Not writing one is unprofessional and you risk leaving a bad impression, hence ruin the possibility of any fruitful relationship with your colleagues in the future.
Therefore, you should always make sure to write a positive resignation announcement letter before leaving the company. In this letter, you should thank all your colleagues for the opportunity of working together. Here's a guide on the tips to observe when writing a resignation announcement letter to your colleagues.
Steps To Write A Resignation Announcement Letter
Before you even start writing a resignation announcement letter, the first start by deciding whether to write it as a group email to all your colleagues or a personalized email to each coworker. However, you can also do both since there's no rule restricting you. As you write this letter, make sure to maintain a grateful, positive, and polite tone. Doing this is vital since you want your colleagues to have a good impression of you even after departing the company. And because they're part of your professional circle, you might need their assistance or be workmates in the future.

Here's the overview of the steps to follow when writing a resignation announcement letter;
Formal Greeting
It's essential to maintain a friendly and professional tone when writing the resignation announcement letter. If you're writing one letter to a group of colleagues, it's best to use terms such as "Dear colleagues". For a personalized letter to a specific coworker, you can state both their full names and formal titles.
Sentence Announcing Your Resignation
The first sentence in this letter should be the formal notification of your colleagues about your resignation. Also, make sure to include when's the last date you'll be attending to your duties within the company. Ideally, the said date should be two weeks after sending your coworkers this letter. For some jobs, you'll need to make this announcement much earlier than the standard two weeks. Therefore, you should do your research and determine whether this is applicable where you're working before writing the resignation announcement letter.
Explain Your Role During the Transition Process
Most of the companies use the period between the day you officially give notice for your resignation and the last employment date as a time to find a suitable replacement. This usually involves hiring and training the person mandated to carry out the duties you performed.
In some instances, your employer might get in touch to ask about something even if your last day of working in the company has passed. If you wouldn't mind offering help, the resignation announcement letter is the perfect place to state this.
Express Your Gratitude
Take this opportunity to express your gratitude for the opportunity to work in the company. Also, explain how working there has helped you learn to improve your skills and how that will be invaluable in your career development. You should always strive to leave a good image since you might need your colleagues to be your references or look to go back to the company.
Include Your Contact Details
You should consider leaving your personal details such as your phone number, email address, and mailing address should a colleague want to get in touch with you. But before doing this, first read over the company policy since some employers are against using mass communication to share personal details.
Have A Professional Closing And Signature
Make sure to use the proper closing with "Sincerely," often regarded considered the perfect choice for official letters. Once you've done that, go ahead and print the letter before forwarding it to your coworkers.
Resignation Announcement to Colleagues (Format)
Dear Team;
With mixed emotions, I am sending you this resignation announcement letter to inform you my final day with the firm will be (January 31st, 2021). After discussions with my supervisors and the Human Resources Department, I will use this coming few weeks to train the individual who will take over my duties. Any incoming should be directed to the individual to avoid any confusion.
I wish to express my gratitude and thank each of you for everything you taught me the last (ten) years working in this company. You are no doubt a remarkable team. I have learned useful skills working alongside you that will be invaluable in my future endeavors, regardless of the direction of my career path.
Please feel free to get in touch, and my email is (), and my phone number is (XXX XXX XXXX) Sincerely,
(Signature)
Resignation Announcement to Colleagues Example
Subject Line: Dear Marketing Team,
This coming Friday, January 29th, 2021, will be my final day being part of this fantastic team working for ABC Corporation. I've received an offer to work at XYZ Company, which I believe is the right step for my career growth. As I write you this letter, I'm filled with so many mixed emotions: Although I'm thrilled about this next step, I'll no doubt miss working with each one of you so much.
Your mentorship and encouragement made my time working in this company to be very rewarding. I've learned so much from each one of you about how to have an edge in the competitive market space. Also, I loved working together, solving solve puzzles, and creating awesome content. It's been a fun and a pleasure working with all of you, and hoping you'll keep in touch.
You can contact me using my phone number, 563-628-7462, or my email address john3738 @ gmail dot com.
Thanks again for the remarkable years working as a team at ABC Corporation.
Sincerely,
John.
Resignation Announcement letter (Word Template)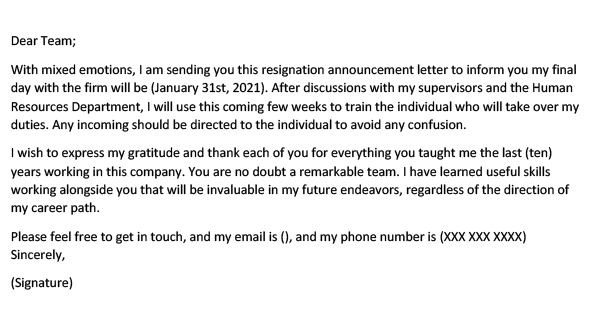 Knowing how to write a resignation announcement letter offer can be quite intimidating. This informative post has highlighted how you can write one to inform your colleagues about your departure if you were experiencing such struggles. With these insights, you'll be able to draft a professional and friendly resignation announcement letter.